During these unprecedented times, people across the world are finding ways to cope with a new, unexpected normal. The need to remain vigilant and to keep safety at the forefront of our minds has never been more in focus than it is right now. No matter where we turn, we see and hear the stories about how the COVID-19 pandemic is affecting people in our communities.
Non-essential workers who are lucky enough to work from home are hunkered down, many with their school-aged children, and are quickly learning to navigate an almost completely online world. Essential workers, such as physicians, grocery store staff, and bus drivers, demonstrate their bravery every day as they continue going into physical workplaces, providing the crucial services needed to keep our country running. Syncta's gratitude to these courageous souls cannot be overstated, which we'll talk more about that later.
As a software company, we are keenly aware of how fortunate we are to be able to provide our customers with uninterrupted, ongoing support as we all work remotely. While we aren't going into an office right now, we are still in constant communication with our customers, and with each other, throughout the day. Our weekly in-person company staff meeting has shifted to video conferencing, and like the rest of the world, we're learning to work through some of the technical challenges of holding large group meetings online. Below is a recent snapshot of our team as we donned our finest home-bound duds. If you look closely, you can actually see a few folks who are wearing collared shirts!
On March 27, 2020, Environmental Protection Agency (EPA) Administrator Andrew Wheeler sent a letter to "Governors in all 50 states, territories, and Washington DC, requesting that water and wastewater workers, as well as the manufacturers and suppliers who provide vital services and materials to the water sector, are considered essential workers and businesses by state authorities when enacting restrictions to curb the spread of COVID-19." This list of vital services includes the continued testing and maintenance of backflow prevention devices. While testing requirements differ from state to state and sometimes even between municipalities, these requirements have not changed in light of the recent pandemic. And the need to have a safe and reliable supply of drinking water is perhaps even more important now than ever.
Because we're still all hands on deck, we're continuing to roll out new features for our hard-working customers. While they continue to provide essential backflow testing services to our communities, we will continue adding features that will make their jobs easier. We'll talk about some of those features in an upcoming blog.
In these uncertain times, our team at Syncta is grateful for all of the sacrifices our healthcare workers are making. Some of us have parents or children who are currently on the front lines in our nation's hospitals. As we shelter in place in the comfort of our homes, we realize how fortunate we are. Diana Lefavi, Syncta's general manager, thought it would be a nice gesture for the team to write thank you cards to our local healthcare workers here in Portland. In a just a week, our team created 160 hand-crafted cards. Below is a photo of Tylor Peck, Syncta's inside sales manager, working on some of those cards. Tylor's wife, who volunteers at a local hospital, will ensure that these cards are delivered to doctors, nurses, and caregivers soon.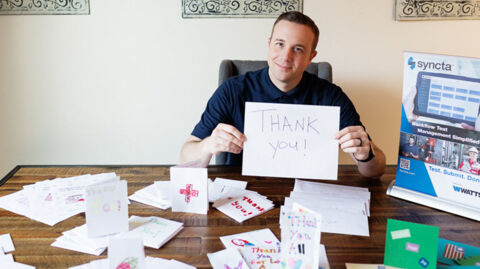 We here at Syncta want to assure you that the safety of our customers, and their customers, is of the utmost importance to us. As we all learn to navigate our quickly changing world, we want to assure you that we are here to support our customers and our communities. Our hours haven't changed (5:00 a.m. to 6:00 p.m. Pacific time), and the same friendly folks that our customers interact with day to day are still here. We are committed to helping our customers, who are in turn committed to the ensuring the continued health and safety of our water infrastructure. And for that, we are eternally grateful.