In my role as Syncta's technical writer, I am typically less visible to our customers than my Customer Success colleagues. While I work behind the scenes creating content, the rest of my team fields daily phone calls, emails, and chats to help our customers succeed. No one knows our customers better than these guys. And in my twenty years of working with customer support folks, I've never seen a team that's more dedicated to their customers than my co-workers at Syncta.
As a technical writer who creates content for our customers, I know that there is no "one size fits all" for learning. Some people like to read detailed instructions or watch videos before they perform a task, while others prefer to jump in and start using a tool right away. Many of our customers fall into this "doer" vs. "viewer" learning style. So two years ago, I started looking for a tool that would help fit their needs. Using Whatfix, a cloud-based software that focuses on digital learning, I created different interactive learning tools, such as in-app trainings and tool tips that provided more information about fields on a page.
I've learned a lot about digital learning in the past two years, and have continued to refine our interactive offerings along the way. As part of this, I've particularly enjoyed my partnership with Whatfix, and have appreciated their willingness to listen to my ideas and make their own refinements as well. We still regularly engage in back and forth discussions to work through challenges and find solutions. In June, when Whatfix asked me to be a co-presenter at an upcoming conference for the Society of Technical Communication, I was excited to showcase our collaborative discussion in a public setting.
Nibu Thomas, Whatfix's Manager of Information Development and "headliner" of this presentation, chose to focus on a subject that's important to both of our companies - advocacy. Nibu covered the many ways that technical writers can be advocates, not only for themselves and their profession, but also for their company, and ultimately, their customers. Thanks to the magic of Zoom, Nibu and I shared our personal and professional advocacy experiences, and we offered insight into the characteristics that we believe make someone a strong advocate.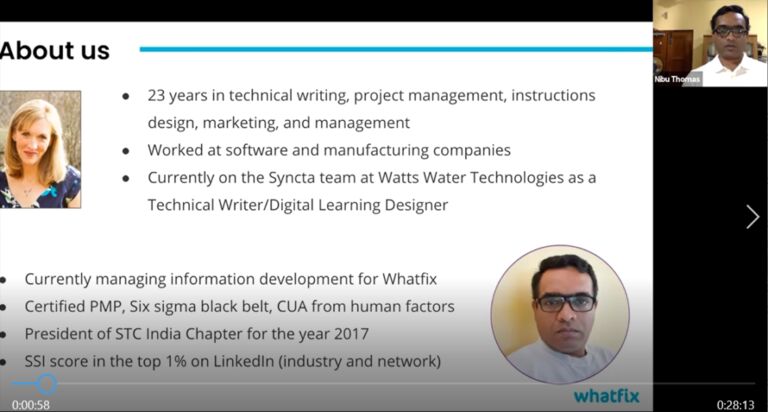 Nibu and I discussing advocacy at STC's annual conference.
We were honored that several hundred attendees tuned in for our talk, and were especially pleased that STC liked what we had to say. Just like working together made our presentation stronger, advocation is more effective when multiple points of view are heard. When teammates engage in collaborative problem-solving on behalf of their customers, the old adage that "working together makes things better" certainly holds true. I look forward to future collaborations and finding even more ways to advocate for our respective customers.