Here at Syncta, we're always looking for new ways to help save our customers time and money. Last summer, we introduced Xpress Test, our streamlined testing interface that allows you to enter customer, service location, and assembly data, and complete a test all in the same place. As our customers started using Xpress Test, they found that it took them less than half the time it used to when they entered customer data and test results.
After completing Xpress Test, our developers started working on the next time-saving feature that would validate passing test results, and help testers, testing companies, and water purveyors alike.
After several rounds of updates and input from testing companies and purveyors, we're excited to officially announce the release of our test validation feature! Testing companies and purveyors can now set up passing test parameters for each assembly type, which will then be used to validate test results entered in Syncta and in a purveyor's submission portal. Let's take a look at a couple of ways that test validation parameters can benefit you.
Prevent Accidental Mistakes
One of the cool things about Syncta is that you can use our app on most devices, including cell phones. While having a powerful database at your fingertips certainly makes life easier, the small keyboard on a phone can create headaches when the occasional "fat finger" strikes.
Think about it. How many times have you typed a message to someone, only to realize that you (or auto correct) wrote the wrong word after you sent it? I mean, maybe you really did want a "monkey band" to play at your birthday party. But I'll bet that you actually wanted to have a "funky band" play at your party instead of allowing wild animals to run amok.
Why go into such an elaborate, ridiculous example that has nothing to do with backflow testing? 1. Because a monkey band would be amazing! 2. Because test validation will alert your testers to fix any fat-fingered mistakes that would prevent them from submitting passing test results.
If this happens, they'll see an error message that tells them the parameters that a given entry must be within to achieve passing test results - whether it's in Syncta or in a purveyor's submission portal.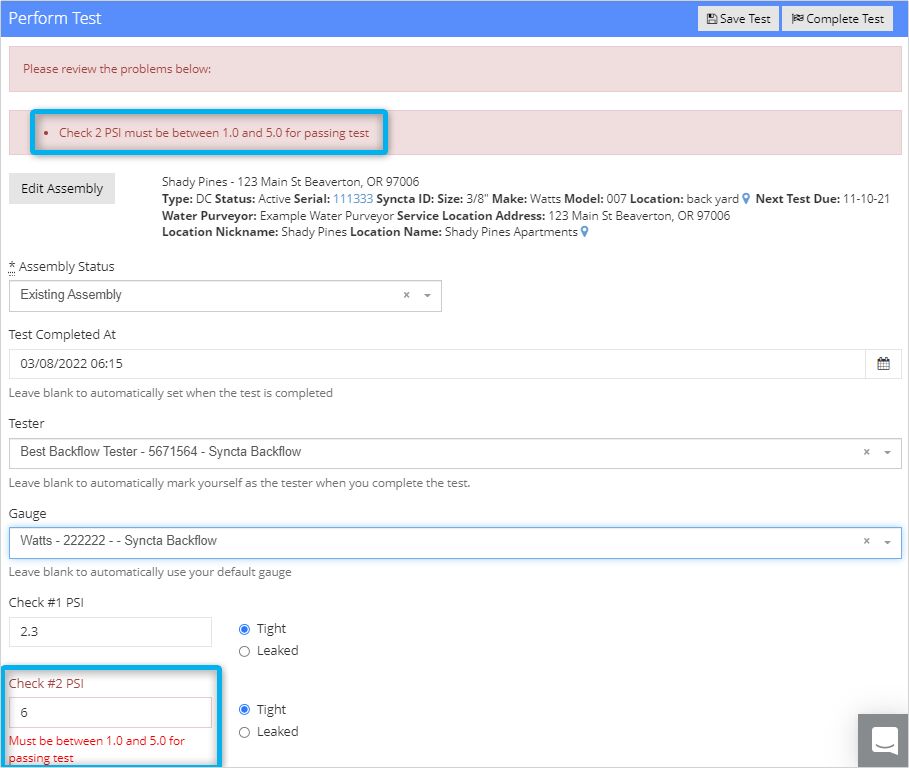 Save Time Reviewing Tests
Test validation will also save testing companies and purveyors time when they review completed tests. If someone edits a completed test in Syncta and accidentally enters results that are not within the defined parameters, you'll see a red caution icon next to that test on the Review Completed Tests page. This helps reviewers to quickly find tests that don't have passing results and then act accordingly.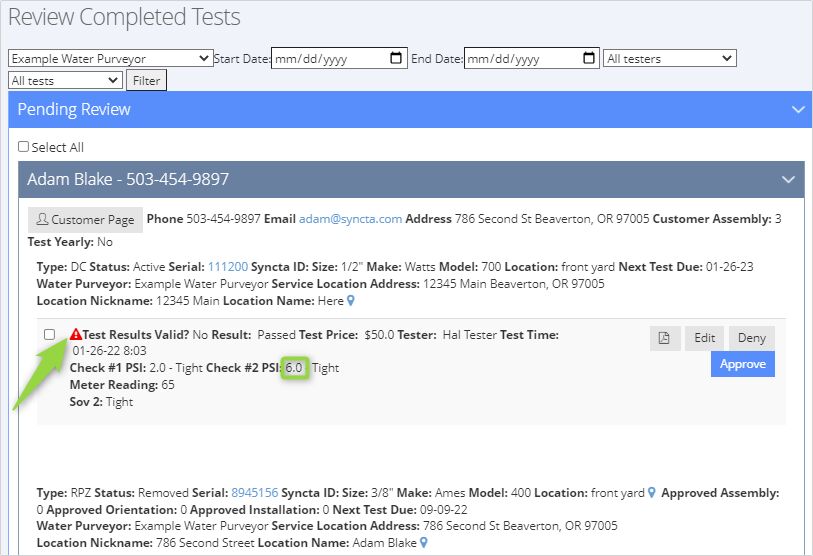 For purveyor's that have testers who use their submission portal, this same icon will appear on the Receive Tests page if someone edits a completed test from the portal and the passing results are not within the defined parameters.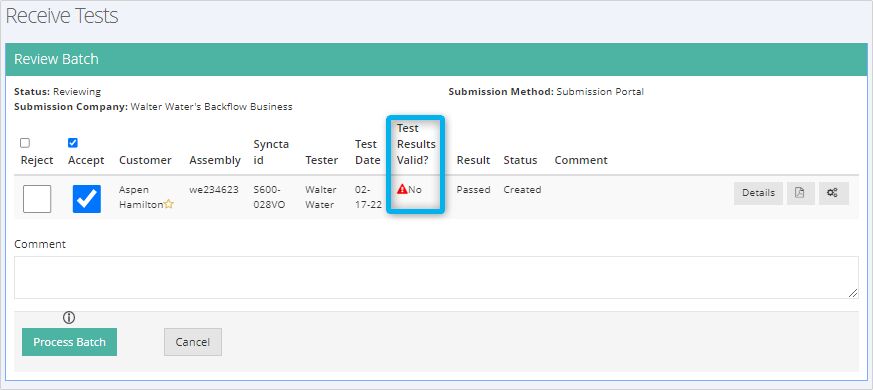 Set Up Test Validation in Minutes
It only takes a few minutes to activate test validation and set up test parameters for your assembly types. Ready to get started? Click here to begin our live step-by-step walk through, or click here to read more about how test validation works.